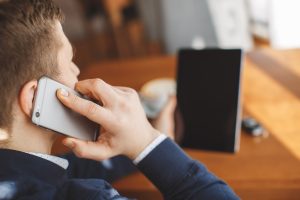 Companies of all sizes have been forced to reflect, react to and rapidly analyze the level of impact that the coronavirus (COVID-19) pandemic is having on their business. Oftentimes, these actions are done quickly with limited information and continually changing legislation.
Many employers are looking to their insurance broker to help distill and parse this information into easy-to-understand, actionable insights. That's where you can step in. While there are many unknowns with the current situation, insurance professionals are uniquely experienced to help businesses through crises.
In order to help you meet this challenge, here are four ways to better connect with your clients and elevate your customer experience.
1. Proactively Reassure, Inform and Educate
One of the biggest keys to delivering a superior customer experience is to communicate clearly and quickly. Your clients likely have a lot of questions about their insurance needs and proactively reaching out helps them avoid feeling scared or uninformed.
But before you fire off a bunch of emails, make sure you have something valuable to say. Prior to sending an email, it is helpful to think through these items:
Send a message that genuinely helps and answers the questions your clients care about.
Think about your tone and how your message will come across to your target audience.
Clearly outline how you can and will help.
Segment your message to ensure you are focusing on the right clients based on their industry, size, geographic location, etc.
Be prepared for follow-up questions.
Sending a message to your clients can help them feel connected to your agency and know that you are ready and willing to help.
2. Listen for Feedback and Engage in Planning Conversations
In addition, you need to be prepared to listen. The COVID-19 pandemic is impacting everyone, but the impact can be significantly different for each and every business. Seeking out and listening to feedback from your clients is always important, but it's now more essential than ever. Truly listening to your clients allows you to provide them with the right resources and thoughtful, strategic business advice.
It is essential to have honest and engaging conversations with your clients. Help them define the theoretical best, worst and middle ground scenarios that could play out during the pandemic specific to their business, its customers and any critical partners. This will help you gauge, for example, what potential changes they need to make in health care plan designs, coverage levels, or safety and risk management.
3. Provide Clients Direct Support
A key part of communicating and listening is also providing your clients with a direct place where they can self-serve their insurance needs. There are a handful of ways to provide direct support to your clients, but here are a few:
Create a Resource Center: Having one place where your clients can turn to for up-to-date information can provide long-term benefits. Showing your knowledge in a time of crisis will help your clients remember all you've done for them down the road. This resource center can live on your website or within a specific portal for each client and can contain information you've created, information from third parties and industry leaders, and public health links. To get an idea how Zywave has approached this, check out our COVID-19 Resource Center.
Continually Find and Communicate Updated Information: As part of your communication strategy, it is essential to inform your clients without overwhelming them. Ensure you are organizing your communications in a clear manner, so as clients visit your resource center or read your emails, they understand what information is new and what may or may not impact their business.
Live HR Help: Finding the time to answer all of your clients' questions can be a huge challenge for you and your team. Between new and changing legislation (like the FFCRA, CARES Act, etc.), keeping up-to-date and informed can seem like a tall task. To help alleviate this burden, consider providing clients direct access to a specialized team within your organization or partner with an outside resource to help field these questions. When working with an outside organization, ensure that they have a deep understanding of a wide array of HR topics (benefits, federal compliance, employment law, wage and hour, discipline and terminations, hiring, workers' comp and more) and proven experience.
These are just a couple of ways that you can positively connect with your clients and grow your key relationships using digital solutions. By highlighting your depth of knowledge and making yourself the go-to resource for your clients, you can deliver a superior customer experience and set yourself up for successful, long-term partnerships.
4. Implement Access to Digital Resources
In a time of remote work, it is important to keep as connected as possible and a lot of this can be accomplished through implementing digital resources for both you and your clients. Ramping up digital delivery has been a trend in recent years, but has been expedited for many with the recent pandemic. Here are a few solutions you can implement at your agency:
Email Marketing Automation: It's important to have a system in place to deliver timely, relevant communication. With an automated email marketing platform, you can say goodbye to one-off emails and save time using preset campaigns and drip marketing to effectively reach your target audience. Ideally, you should be able to segment your audience by location and other demographics, and easily track the effectiveness of any given campaign.
Online Enrollment & Onboarding: With lots of questions arising from employees about what is and is not covered within their health plan, now is the ideal time to set up an online platform for enrollment and onboarding. This can help employees understand their current elections and alleviate costly errors and time-consuming paper documentation for your clients.
Training and Certification: Many workers are at home and unable to attend in-person training or certifications. In order to help your clients remain compliant, offer an online training platform that allows them to complete training on their own time and on the device of their choosing.
By Seth Drury
Originally posted at Zywave.com